2017:
During our trip to Duble, we had various conversations, including with an engineer and government official. Both were in the vicinity of Pokhali to inspect the rebuilding. The government had shown that a total of five years had been set apart by the government and a system had been developed for obtaining public money.
The occupant of a house, partly or totally collapsed or damaged by cracks, was visited by one of the many engineers. He assessed the extent to which the house had suffered damage and whether it was still habitable. All this was accompanied by various documents, including a red booklet containing all the details of the main resident, his passport photo, fingerprint and/or signature. With the red booklet called Red Card, an amount of 50,000 Nepalese rupee (equivalent to approximately 500 Euros) could be received in Okhaldunga. For Duble and surroundings there is a temporary bank building in the medical centre in Pokali. This money could be used to repair any cracks or to build the foundations of a new house to be built. These new houses had to comply with an imposed standard, which the government believes would be more resistant to any earthquakes in the future.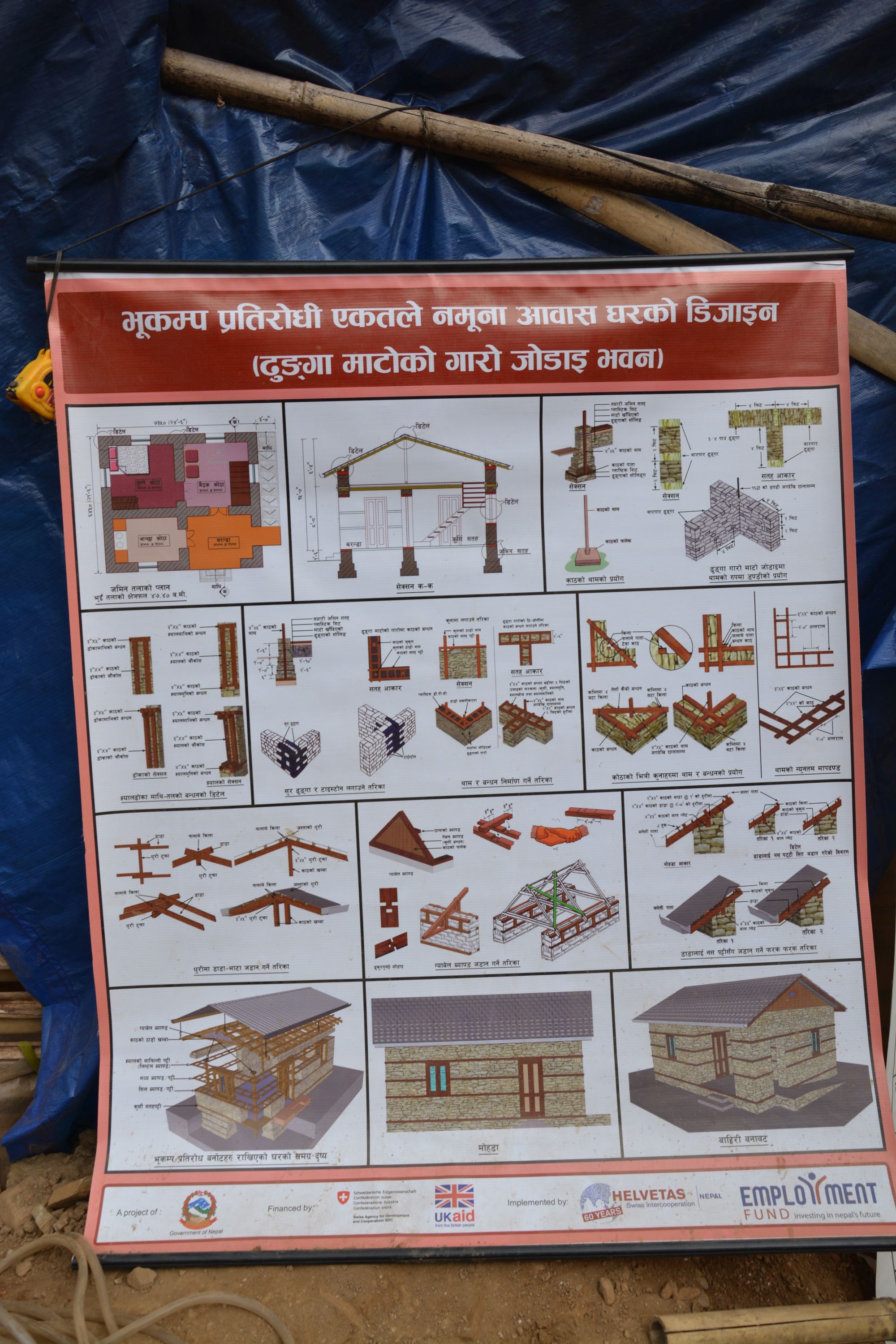 It was a 2 room house of only one floor and pointed roof. The walls had 2 horizontal beams between the brick layers, which ran through and formed a frame. The idea was that each frame held the walls together in an earthquake and prevented the walls from collapsing.
The kitchen was from now on a separate room outside the house. This too will certainly promote health, but only in the beginning this will be very strange for the Nepalese, who are accustomed to sitting around the kitchen fire every evening, whether or not they are in the carbon monoxide and smoke from the wood fire. Of course, the resulting heat will also be missed in the 2 room house. The basic standard house with 2 rooms costs a total sum of approximately 2,500 to 3,000 Euros.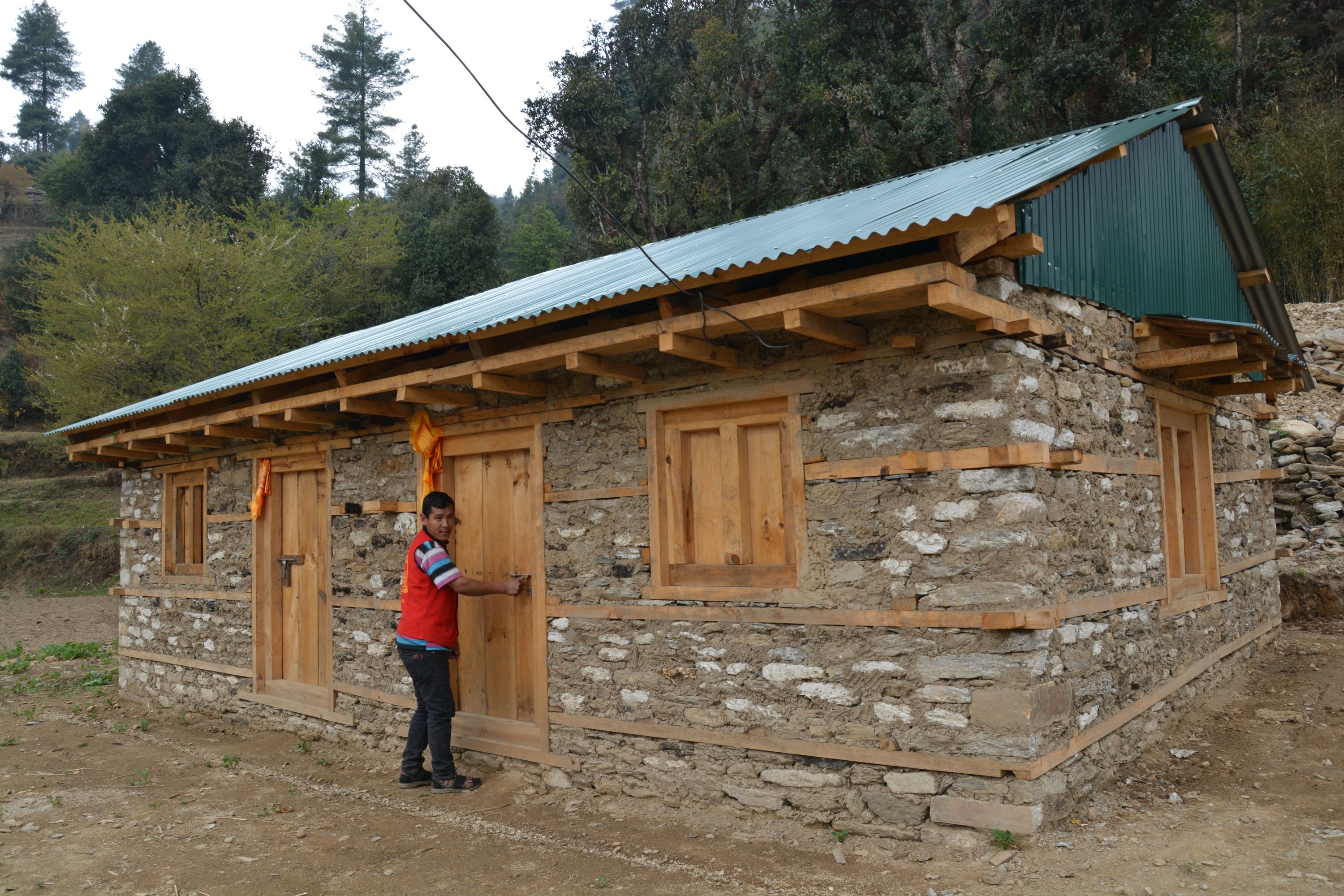 After the construction and approval, one could get another 2,500 Euros from the government. The whole house was then actually paid for by the government, provided that it was built itself. Unfortunately, most of the residents have to turn to construction assistance.
After a small calculation you see that on average one had to pay 500 to 1,000 Euros per house. Independently of the solid interest rate on the amount borrowed. Almost all residents have to lend money from family members or acquaintances.
Furthermore, it soon became clear that the list of 45 "destroyed homes" drawn up by Kame was not complete. This was understandable. A few months ago, Kame had drawn up this list and sent it to us. After that, the government's control had only taken place and even more residents had received a Red Card because, for example, due to the cracks in the walls, the house could collapse if the next quake occurred. These houses were declared uninhabitable. The only solution was to demolish these houses and rebuild them.
In three days we visited a total of 25 main residents and photographed their destroyed or damaged homes. Of these, we gave the 19 main residents in Duble and Khijifalate, a financial contribution of 40,000 Nrs each.
With DMG, the agreement was made that Kame will continue to complete this project for us and that the other residents on the list he made will also receive the same contribution.
Perhaps there will be an addition to this list because, as said, it was not complete.
According to DMG, there were 72 houses under their board, not all of them had received a red card. (then we know about what the max. number of houses may be on the new list)
We were told in Kathmandu that when people from abroad are sent money for the reconstruction of housing, the government wants 10% of it. This happens automatically via the bank and you don't have to do anything else for that. We want, I think you too, that this money goes directly to Duble.
Action taken:
May 2017: Kame gets the money for the first 10 homes in Falate. He takes a picture of the house, the red booklet and the transfer of the money. Before Kame returns to Kathmandu, he looks at all the homes in Falate and Kopche and makes a new list of names.
As soon as project 1 is completed, the following names will be passed on to him for project 2. Then it would actually have been completed, but given that we expect that there will be an addition to this list, then it will be project 3.
It were 3 exciting days, during which we saw the miserable conditions under which the different inhabitants of Duble and surroundings have lived since the earthquakes of 2 years ago. We also saw a large number of pleasantly surprised residents, of whom we were able to relieve some of their financial worries or at least relieve them of their burden.
This now makes it easier for them to start or continue construction and possibly repay part of the loan in advance.
2016:
In Duble are 33 homes completely destroyed by the earthquake. People live in tents made of screens and canvas. In any case, this keeps them dry. They protect themselves against the cold, as much as possible with blankets and mattresses. For us, it is still very difficult to take care that everything become settled and built. The Government don't cooperate and transport to the mountain villages is a big problem. A year after the earthquake, most people already working to rebuild their houses themselves. It goes slowly but there is progress.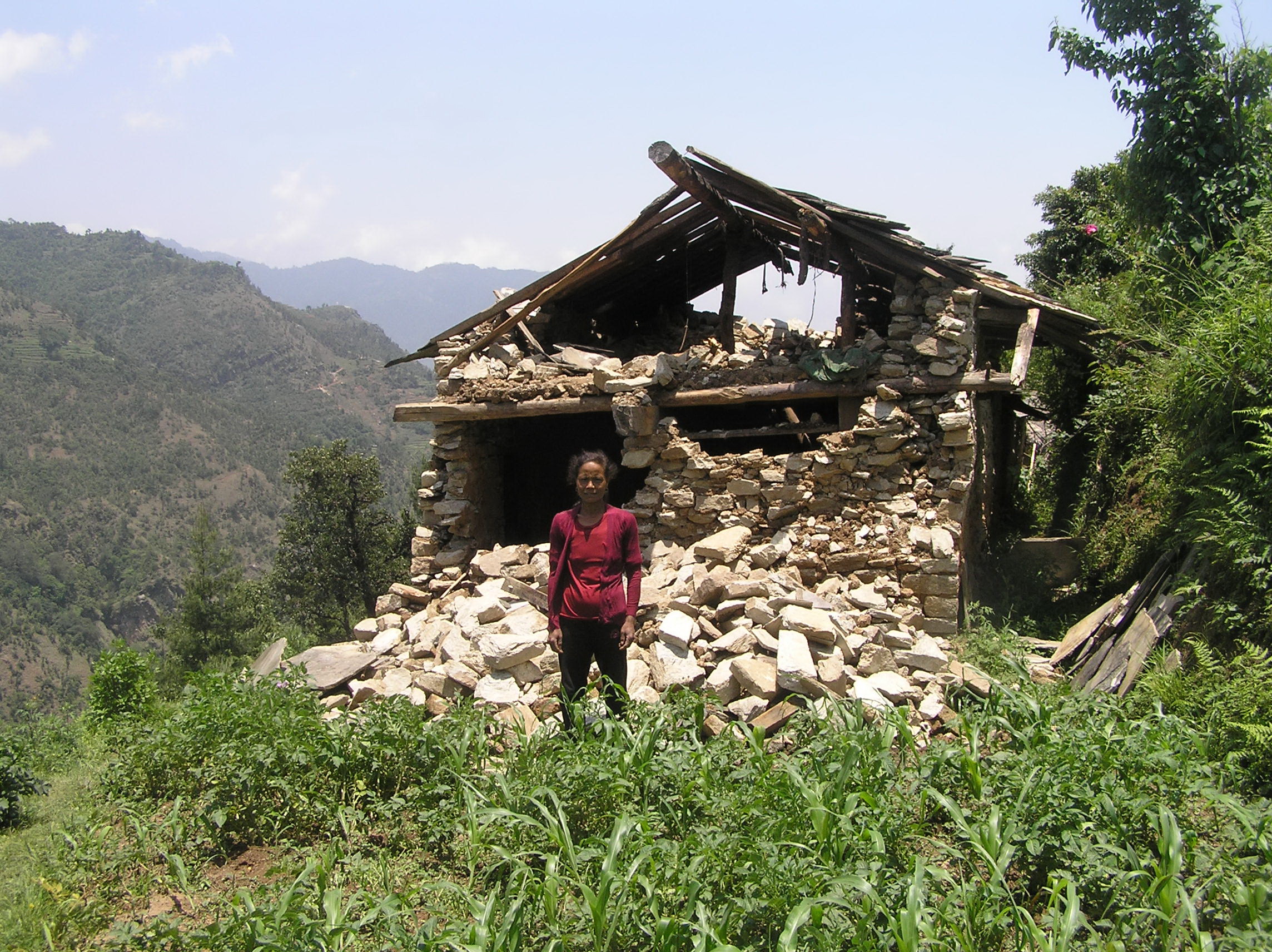 Some people have gotten a loan from the Government so that they can rebuild their homes. We observe everything from a distance in and now we have a good impression for which houses and of which people. We would like to plan a visit next year in Duble and visit these families to help them (financially). We have already understood that there are several families who left from the area for elsewhere.
We do not get a clear picture how much the reconstruction of a house will cost. We think of an amount between € 10,000 and € 20,000 per accommodation.Total cost for this project will come at about  € 330,000 up to € 450,000
Unfortunately we as a foundation can not pay this money. But we want to help the affected people anyway.
Our goal is to provide outstanding loans at the bank, which are used for the reconstruction of their homes to go repay or partially repay.