The Jana Jyoti Primary School in Duble is a government school, which has 8 classes. The parents do not need to pay school fees. They only have to buy the school supplies itself. In 2008, there were approximately 140 children at this school and this number was reduced to about 110 in 2015. The school principal can only spend a part of his time to education, because all the organizational work were done by him. He also has a close contact with DMG. It will be clear that with such a task description, hardly quality education can be given. With the new schoolyear in 2013 there is an employee who, among other things, keeps the Administration up.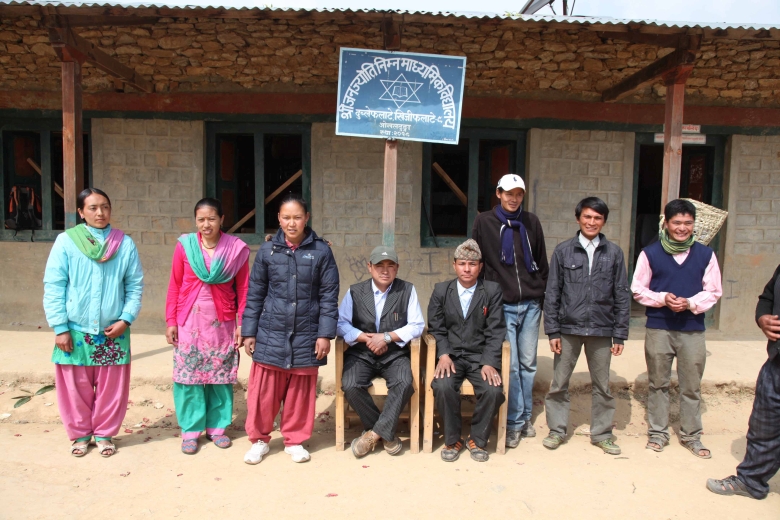 The school is very short on cash because it also started with two kindergarten classes. For this elementary classes they get no money from the Government.The importance of elementary classes is not only, that the little children at a young age learn something, but also that an older sister or brother can go to school more regular. When there are little children at home they have to look for those little ones, while their parents are at work outdoors.
Extra help:
At the beginning of 2008 we have chosen, in consultation with the Dubleli Milijuli Group, 16 children, who lives in very unfavourable conditions. They were orphans, children from single-parent families, disabled people and Dalits. For these children we paid the extra school needs. The names of these children were extra noted and during a visit by us, these children were also highlighted for a picture of the group. We noticed that they don't like to be labeled as "poor". So we stopped to appoint these children apart, but would give for them extra money to the school. Further we give play possibilities and school needs for the entire school, such as footballs, volleyballs, volleyball nets and badminton games.This is going to be in consultation with the school and DMG. They tell us their needs at that moment.
2017:
The last 2 years the number of children at this school considerably decreased to 35 children. Reason was the reconstruction of the school after the earthquake in 2015, whereby most children go to the Champadevi school in the village of Mabir. This school is about an hour's walk from Duble.
They are hard worked on the construction of new classrooms. Almost all the old rooms were collapsed during the severe earthquakes of april and may 2015.
By the Government there were  built 2 temporary emergency buildings of wooden planks and metal roofing sheets.
During our visit in March we were covered with wreaths of Red Rhododendron flowers and various colors kata scarfs. Because we had developed a good system yesterday with the guides and cook, becomes here all children soon our school-and healthy care stuff.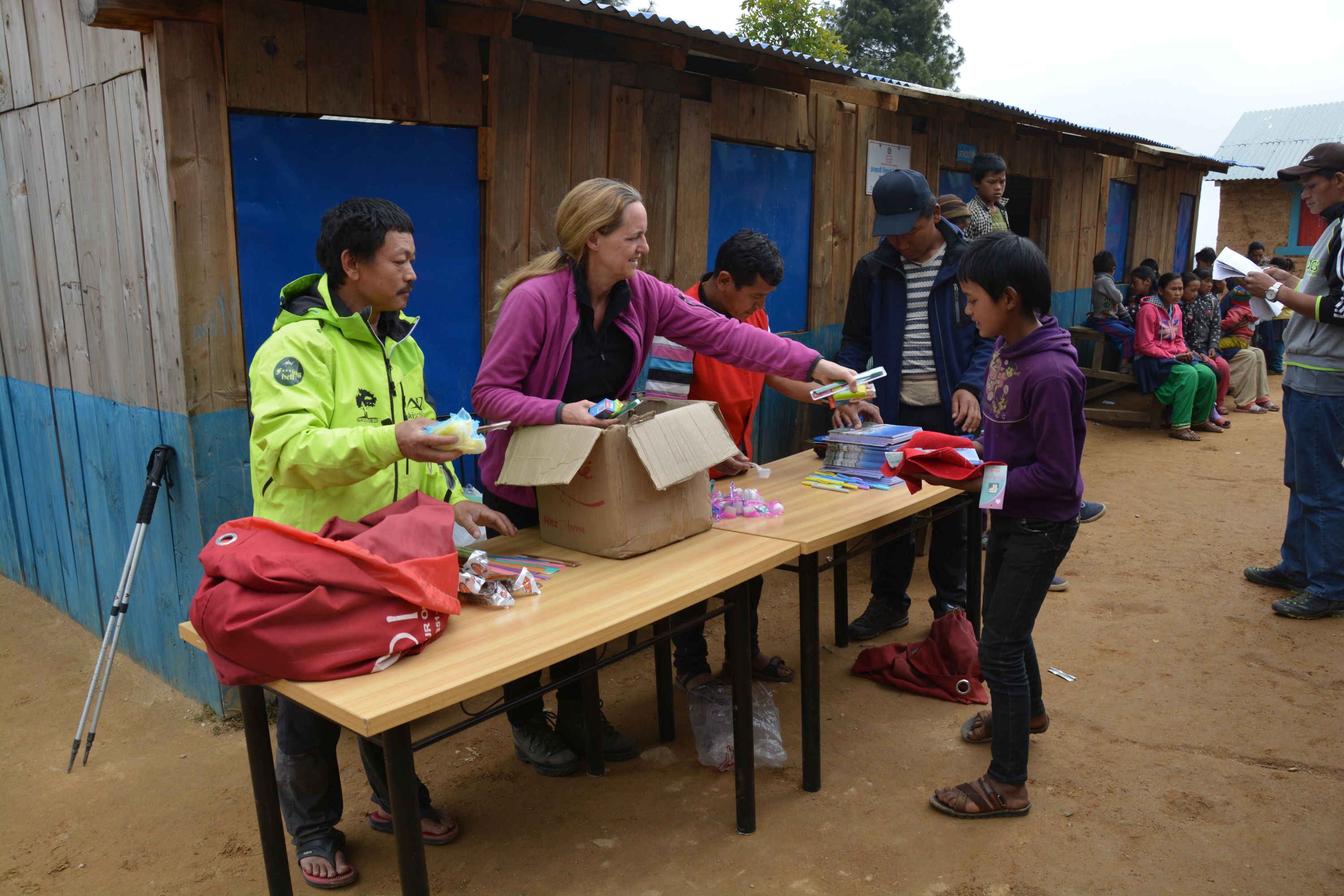 The 2 premises, which were built there by Milijuli were not used. These would later serve as computer lab and a room for the little ones.
 According to a teacher, there were 8 classes, groups at this school.
Our impression:
 After 2 years it looks still very messy. Most stuff were stored in the emergency building, making this space could not be used to teach.

 Somewhere behind in the corner were our computers and monitors. They want to still use ever, when they turn electricity.

 Outside stood some tables, children ran around some more. We could not determine if there is given still lesson was given indeed.

Teachers of the Jana Yjoti school now gave lessons in Mabir. There were only a few teachers here.
 To our question why there is no floor lay in the stone building, so that this could be used and why there is power no more, we got different answers. Came down to is that everything still comes and everything still had to be settled. Through this we will mail swings next time.
2016:
 There are 2 new classrooms built. A computer lab and a class for the smallest children.
2015:
Because the newly built hydroelectric power station generates enough electricity, could the school also be connected to the network. This allows the computers working on 220 volts and for all classes have enough light.
2014: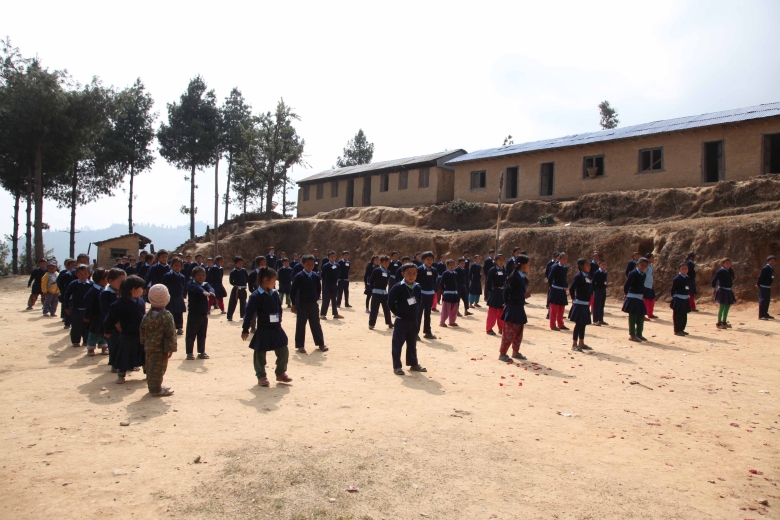 At the request of the school there were made extra school desks and broken school desks were repaired. Also were in different classes the wooden floors repaired.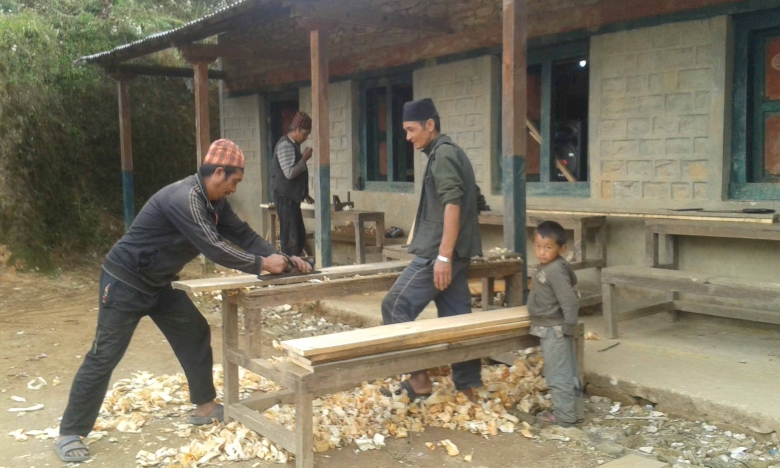 In the framework of the hygiene project, were awarded to all students and parents, a package of a towel, soap to clothing and ordinary soap and a toothbrush with toothpaste. The many-coloured towels were seen by us in the following days while they were used by the inhabitants as a head scarf or as a scarf.
2013:
Despite that there is still no internet available in Duble, were at the request of the school, still 3 computers purchased. The electricity was supplied by extra solar panels. So the children become familiar with the use of a computer and could in future be given interactive lessons, from various Cds including musical word and rating assignments.At our visit to the school, these computers were festive and officially taken in service.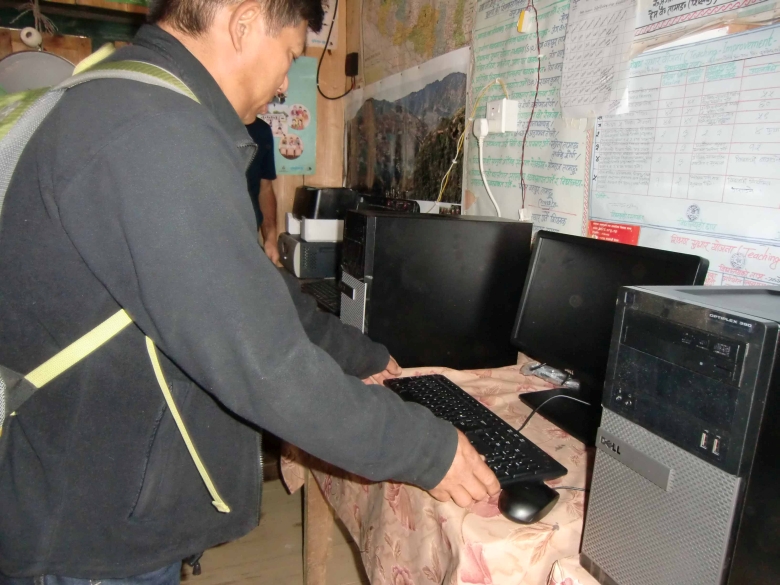 2009:
On the occasion of our visit we have given the school a new volleyball and an electronic keyboard (Casio CTK-230). The teachers called it a piano. The device works on 9 volts from a transformer or from 6 alkaline batteries of 1.5 volts. The school has no electricity and buying regularly alkaline batteries is too expensive. It is also bad for nature, because empty batteries were thrown away and were not recycled. That is why we have given another 5 Watt solar panel, 12 Volt lead-acid battery, charge controller and a voltage converter 12 V to 9 Volt.
2008:
For our visit to Duble we had adopted an additional carrier for a large amount of rules, pencils, erasers and pencil sharpeners to the school.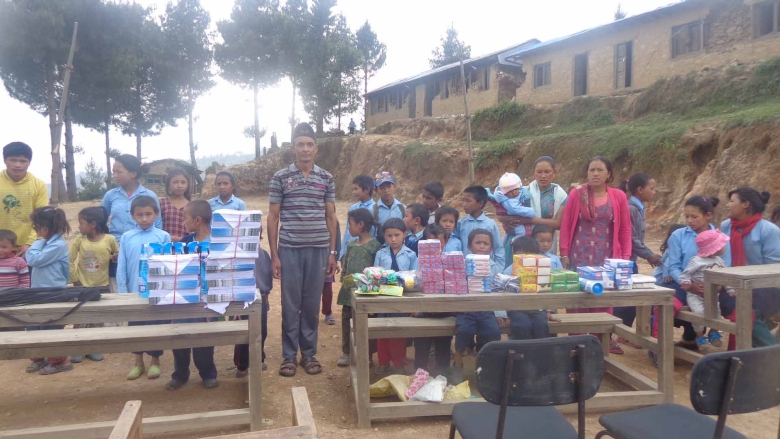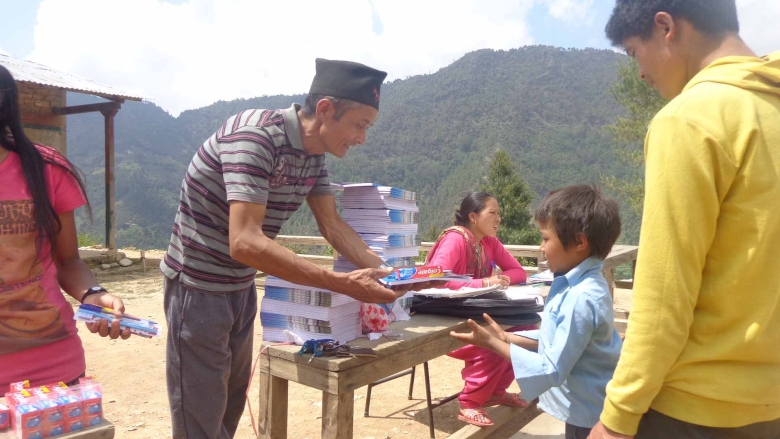 For the distribution was a happening created and residents hung a large number of rhododendron flowers wreaths around our neck.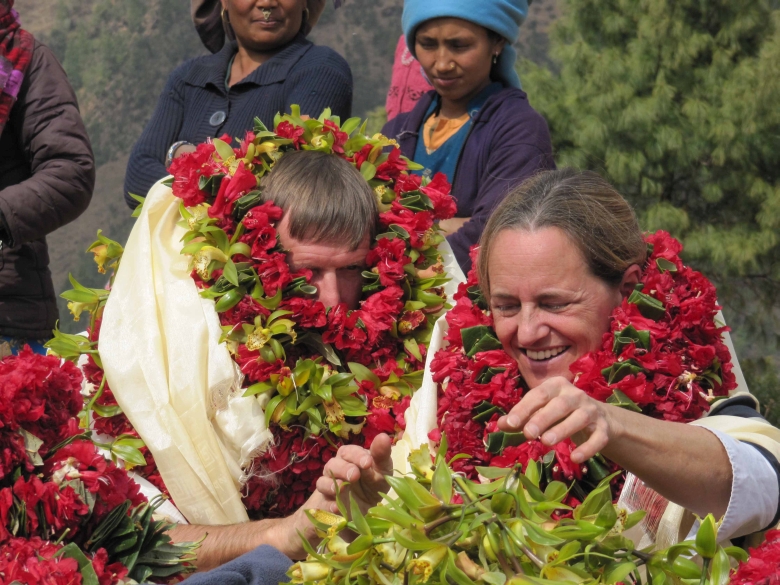 2006:
In addition to the standard school needs we have provided for additional game options in the form of a volleyball equipment, badminton games and a soccer ball, with pump. The purchase was cheap in Kathmandu and the children still have much pleasure of it.